Works
---
---
Opera
OPERA W – THE TRUTH BEYOND
The Opera was commissioned by the University of Tübingen in 2014 and premiered in July of 2016 and August in Ystad, Sweden, the same year, in a total of 11 performances. The original libretto was written by Klas Abrahamsson in Swedish and then translated by Ann Henning Jocelyn. It's a criminal opera based on the characters of Henning Mankell's novels about Police inspector Kurt Wallander. You can read about the the whole project in this essay by the Universitätsmusikdirektor Philipp Amelung who both initiated the whole project and was the chief conductor of all rehearsals and performances. The Opera is not published but can be obtained by applying via my contact page and letting me know of the circumstances around the request.
O P E R A W
"The Truth Beyond" Original title: "Sanningen Bakom"
Libretto:
Klas Abrahamsson, 2015 English version: Ann Henning Jocelyn. Colombine Theatre company.
Music: Fredrik Sixten, 2015
Soloists:
"Kurt Wallander:" Bass-baritone "Linda Wallander:" Mezzo-soprano "Christina Berglund:" Soprano "Fredrik Berglund:"Tenor "Tobias Jonsson:" Tenor "Anders Jonsson:" Baritone
Smaller solo parts :
"Chief inspector" (Baritone) "Martinsson"(Tenore)
Polis colleagues and others: (Sopranos, Altos, Tenors & Basses)
Mixed Chorus:
SSAATTBB
Orchestra:
Wind section:
2 Flutes (Fl.II alternating Piccolo Flute)
2 Oboes (Ob.II alternating English Horn)
2 Clarinets in B (b) (Cl.II alternating Bass Clarinet)
2 Bassoons
Brass section:
2 Horns in F
2 Trumpets in B (b)
2 Trombones (Trb.II alternating Bass Trombone)
1 Tuba
Percussion:
(2 players)
Timpani, Bass drum, Snare drum, 3 Bongos, Wood-block, Triangle, Cymbals, Castanets, Tambourine, Claves,
Wind chimes, Vibra slap, Cow bell, Police whistle, et al.) Strings:
1st Violin (min. 5 players)
2nd Violin (min. 4 players)
Viola (min. 4 players)
Cello (min. 4 players)
Double Bass (min. 2 players whereof min. 1 with a low C-string)
Duration:
approx: 160 minutes in 2 acts
World Premiere: July 8th, 2016, Festsaal Neue Aula, Tübingen, Germany
Swedish premiere: August 13th, 2016, Ystad Theatre, Sweden
Total of performances: 11
Commissioned by
Collegium Musicum, University of Tübingen & Universitätsmusikdirektor Philipp Amelung
PROJECT OPERA W – an essay by Universitätsmusikdirektor Philipp Amelung
Fredrik Sixten and his opera about Henning Mankell's Kurt Wallander
Prologue "Sure I can do that"
Fredrik and I have known each other for a while. It all started with an e-mail that I received in 2006 in the office of my former position as choir director of the Schola Cantorum Leipzig, short and to the point, but with a link that achieved a lot: "if you are interested in good music you can listen here! "This was followed by excerpts from his now internationally recognised Requiem, which Fredrik had composed in 2006 in memory of a terminally ill friend.
I was immediately captivated by the intensity, the beauty and the expressiveness of this music, it inspired and touched me. I listened to these excerpts several times and finally asked Fredrik to send me an entire recording in order to get a comprehensive impression of the work. And here I experienced Fredrik's professionalism for the first time as a promoter of his own person: after three days a CD including piano reduction was in my mailbox, less than an hour later I knew: I want to conduct this work!
As is always the case with new, ambitious works: it took a while to find a good opportunity to stage the German premiere of the Requiem. A choir was found quickly, as I had taken over the leadership of the Leipzig vocal ensemble a few years earlier. This choir sings regularly in the church of Johann Sebastian Bach, the Thomaskirche Leipzig and has the honor of representing the famous St. Thomas' Choir during holiday periods. With the Ickinger concert cycle, a small but fine concert series in the south of Munich, which I have been artistically supervising for over 20 years, we also had an adequate performance location, which we preceded by a concert in Leipzig's Peterskirche. The soloists were the soprano Natalie Siebert and the later Thomaskantor Gotthold Schwarz, who had made a name for himself as a baritone, especially in the subject of songs and oratorios. And so it finally came to the first performance on German soil on November 20, 2010. As I did when I first heard the few excerpts a few years earlier, the audience and the press were equally impressed at our concerts.
Anger and despair, guilt and forgiveness, grief, consolation and hope: the last concert of this year's Ickingen concert cycle in the full church of St. Benedikt in Ebenhausen was oppressive, even threatening. The concert quickly found a powerful drama that had a lasting impact … The Swedish composer has created a personal and extremely intense mass for the dead, which not only plays with different stylistic elements, but also counteracts musical clichés. Sixten draws the first notes from the depths of timelessness, tense and dark. The violins are not the light element here; this time the horns do that. Partly dissonant, but always emotionally permeated passages develop the work further and bring a partly sharply profiled contrasting drama into play. Sudden rearing up and gentle rest: In Sixten's Requiem, tonal contrasts collide until finally "In Paradiso" the strife is transformed into hope, light and love.
During the years in which I was interested in Fredrik Sixten's music for the first time, I was equally interested in another famous Swede: Henning Mankell and his detective, Kurt Wallander. I had read all of the novels in this series, they stood and stand on my bookshelf and fascinated me while reading them at the time, as did the music by Sixten. During the rehearsal and domestic work on the score, it seemed to me that the sometimes oppressive or threatening atmosphere of the funeral mass matched the gloomy atmosphere in the famous author's novels. Again and again I thought of foggy, gloomy landscapes in the Swedish province of Skåne, the beginning of the Introit already depicts a dense and deserted situation, which of course expresses inner despair in the music, but which also goes very well with a scenic mood.
After several memories of this kind, I made a quick decision to go to the bookshelf, took out a Wallander volume and looked at the publisher. I called him with the request for a contact, where I could inquire how I would get the rights for a composition commission. At the same time, on the spur of the moment, on our first phone call, I asked Fredrik whether he could imagine composing an opera about the commissioner from Ystad. "Sure, I can do that," he said dryly.
Later, when the contract had already been signed and a realisation of the project was assured, he told me that he was sure that such a mammoth project would not become reality anyway and that this German conductor had a nice idea, but it will never be able to implement it .
To cut a long story short: it took another six years to finally get there. In between there were many, many e-mails and phone calls with German and Swedish publishers, the search for a librettist who initially accepted enthusiastically and threw himself into work only to get off later after signing a contract, a very spontaneous flight to Malmö to meet a wonderful and fast-writing second librettist with Klas Abrahamsson, a professional change from Leipzig to the university in Tübingen, good discussions with the city's cultural office and the university's rectorate, a wonderful trip with two filmmakers to Ystad and Antibes to on the one hand to film the picturesque theatre and on the other hand to have a conversation with Henning Mankell for our trailer and a lot of time and energy to set up the financing that will make the opera "W – The Truth Behind" – my big heart project – a reality be let.
With this commissioned work – certainly the largest and most comprehensive of my musical career – a lot has changed not only for Fredrik but also for me. I am infinitely grateful to my Swedish friend for the many hours he has invested, the heart and soul he has sacrificed and the amount of nerves he has left. In all the years that went by before the opera was completed, I have always relied on Fredrik and have never been disappointed!
The Leipzig Vocal Ensemble and the Mendelssohn Chamber Orchestra Leipzig at the German premiere of Fredrik Sixten's Requiem as part of the 2010 Ickinger concert cycle.
Scene 1 – the delicate question of an overture
After about five months, Fredrik sent a first draft of the first third of his opera. I opened the pdf file with great anticipation and was surprised: no overture? In my bold thoughts I had imagined a gloomy introductory motif, coming from the depths, which developed over a long musical line to a five-minute orchestral introduction, in which the motifs that Fredrik will later incorporate into his music are already announced.
Fredrik and I had spoken very little about the structure of the opera beforehand. It was an exciting phase that we were in, after all, with what was originally a very good lead time, we were struggling with problems that we had not foreseen. The originally contracted librettist obviously had problems finishing his text. It was contractually agreed that he would deliver the libretto by July 1, 2014 and a few weeks earlier he had been very optimistic that he would be able to meet this deadline. Two weeks after the deadline had expired, I followed up with him for the first time and was reassured that he was about to finish his work and needed another two weeks before he would be ready.
At the beginning of August nothing came back, when I asked again I was reassured that he was currently ill and could only work slowly. But I got a little restless, as I had an obligation to Fredrik, but also to the University of Tübingen, which acted as the organiser, to ensure that everything went as smoothly as possible. Berit Gulberg, agent of the librettist but also of Henning Mankell, promised several times to take care of it, but it dragged on until I finally had doubts that he would be able to deliver. After consultation with Berit and Fredrik, I set him a deadline at the beginning of October: the libretto I had written up to now should be in my e-mail inbox by 12 noon the next day. What I had almost expected after the exciting weeks: He left the project at a point in time when the libretto should actually have been delivered.
In many telephone calls, Berit and I had already explored what to do in such a case. She had already gone through several names of possible alternative librettists and had already inquired about one of them in case the inconceivable happened. When it finally happened, it happened very quickly: I booked a flight to Malmö for the day after next and met Klas Abrahamsson there, an extremely personable person who of course knew about our problems, but hardly commented on them. Already informed by Berit about the financial conditions, asked about the scenic conditions, the staff, the orchestra and the location. So after a two-hour, very intensive meeting, I was able to fly home a little more relaxed. After his final acceptance, he quickly got in touch with Fredrik, met him and discussed further cooperation with him. They agreed that after his treatment he would always write two or three scenes and then send them to Fredrik so that he could start composing. So they worked side by side in parallel, with a lot of contact, constant discussions and phone calls. But that meant an incredible amount of extra work for Fredrik, which I wasn't really aware of at first. He told me this at a time when the libretto and composition had already been completed and we met for three days at his place in Trondheim to go through the score together.
From this perspective it was of course more than understandable that an overture was out of the question, I only spoke to him once shortly afterwards, he didn't go into it at the time. It was the time when his Concerto for Two Pianos was premiered, a strong, rhythmically complex but stirring work that, in addition to the opera, challenged Fredrik during these months, but also contributed to his giving up his position as choir director at the Nidarosdomen in Trondheim and dedicated himself entirely to the composition. He reported about the conductor and commissioner of the piano concerto, who asked him after finishing the score to write a cadenza for the two soloists, a request that Fredrik refused because he said he had given the commissioned work because he was a composer think it is complete. He did not allow himself to be persuaded to compose such a cadenza afterwards and so I assumed that he would not allow himself to be persuaded to write another overture, apart from the fact that this would no longer have been feasible in terms of time.
A trademark of Fredrik Sixten is that he always delivers his works at the agreed time. I suspect that this also has to do with the fact that he, who has been a conductor of various choirs for many years, knows how exhausting it is if a commissioned work is not finished on time or if the composer wants to change a few things shortly before. Choirs, especially amateur ensembles, which need a little longer lead time in the rehearsal time, usually get quite confused when they have to relearn at short notice. I have always appreciated the professionalism of Fredrik, knowing and planning this when he agrees to a commissioned work.
His opera begins as I already knew it from the Requiem: an atmosphere drawn out from the depths, represented by trembling low-lying strings, the tuba, two bassoons and the bass clarinet. After four bars the trombones start in a chromatic upward movement, the high strings complement the eerie mood of the beginning with their syncopation – also in the tremolo but tonally muffled by sordino. After ten bars the choir starts for the first time, but not with text but with a long vowel, almost imitating the orchestra. A phrase builds up over 20 bars that immediately casts a spell over the audience and accumulates in calling fff chords before the chorus acapella rests on an empty fifth.
In less than three minutes, Fredrik introduced his work and focused musicians and listeners alike – without an overture!
Scene 2 – "Where do I go from? What will I say? "- The singing roles
The first thing Klas Abrahamsson made after accepting the assignment was two to three months in which he could think about the plot and the characters in it. Of course, Fredrik and I were restless and really wanted to know how things would go on, what the new story would be and which singers we had to ask. But it was necessary to allow Klas this time so that he could work on the work himself with satisfaction and self-assurance.
One thing was clear from the start: the plot of the opera should start after the last novel by Henning Mankell. We didn't want to set one of the books to music because the many Wallander fans were shaped by the different film versions but also by their own images that arise while reading the stories and we didn't want to make any comparisons.
"I think that you face the same challenge as the producers of the films based on my novels: to find your own way in relation to the medium that you will use, in this case the opera. You have to find your way to use the stories. I really mean you should use my stories like a kind of trampoline that you use to jump into the water. "(Henning Mankell, 2013)
So Klas decided to start the opera when Wallander officially left his service. While his colleagues bid him farewell with boring speeches, jokes and a huge cake, a well-dressed middle-aged man comes by and mentions that he had been arrested by Wallander fifteen years earlier for the murder of his father. His first step after being released from prison is to go to the police station to confirm that he is innocent of his father's death. With a brief apology for the interruption of the celebration, he says goodbye and leaves …
In addition to Kurt Wallander, there was another person who is known from the novels: his daughter Linda, who follows in her father's footsteps and also becomes a commissioner against his will. Wallander's dementia, indicated in the last novel, is also a theme in the opera and so she worries about him because he decides to revisit the old case of Tobias Jonsson, whom he had arrested 15 years earlier.
Other characters were the fatality Anders Jonsson, who appears in a detailed flashback as a second leading role alongside Kurt Wallander, Christina Berglund, Anders 'former partner and at the same time close confidante of Kurt and her brother Fredrik Berglund, who is Anders' best friend in the Case is involved and in the end is exposed as a murderer.
Anders Jonsson:
Fifteen years ago, Anders Jonsson was murdered at the age of 45; at that time his son Tobias was convicted for it. But with the resumption of the case, new sides of Anders are uncovered: he was a personable and lovable man, to whom his high reputation in society was very important. But he was shaped by a traumatic youth and a secret that not even his girlfriend Christina suspects. (Source: www.wallander-opera.de)
Fredrik has cast a baritone who goes through both dramatic and melancholy moments. The first scene of the opera begins with him: Anders ponders in a review of his situation, his love for Christina and how he can deal with it. It is a very withdrawn aria, the tonal range is between d and f ', it begins with a doubting piano, increases into a thoughtful mf and ends after a desperate outburst, in which he lets out all his despair, again in the ritual piano, which attacca goes over into the "real" first scene in which Wallander celebrates his farewell.
In the sixth scene he is in a similar situation, although he illuminates himself as a character but also in his identity. In the action he is speaking to a soccer team, but in reality he actually means his own person.
"Who are you now? Who will you be? Who are they? and who are we?
Who will you be? And what are you for? Never forget what you do means more. "
Again the aria begins rather cautiously, in slow 9/8 time, with a four-note motif that appears again and again in a similar form, also used in the first scene by Fredrik Berglund, Anders' friend and murderer.
Fredrik uses the orchestra vaguely here, sometimes individual instruments take over the melody but never together with the soloist. The point here is to create an atmosphere that is supposed to express all the uncertainty that is inherent in the personality of this great game.
Here, too, there is a vocal-emotional outburst, this time not limited to one bar but stretched over six bars: the "different motif" is repeated in sequences and extends to quarter movements, imitated by the violins following the passage, louder and more intense before the orchestra breaks off and Anders stands there practically naked and asks himself: "When others watch you, what will they see?" When grandkids recall you, who will it be? "
Here the audience may register for the first time that it is not just about a personal identity crisis, no, it is about the question of one's own gender, which in the course of the opera becomes the cause of Anders' murder.
Since Anders' scenes always take place in the past, he is not so often involved in the ensemble singing as a person. In the first act there is a duet with Christina, in the second act one with Fredrik, but it is the arias that strongly shape this part, especially in the sixteenth scene, with 225 bars the longest and certainly most dramatic of the entire opera. Anders reports here how, as a young girl who always wanted to be a boy, he was kidnapped and insulted and finally had to endure a brutal rape. In this aria, Fredrik (the composer) shows all his compositional flexibility: harmonious thinking, deeply sensitive melodies, strong rhythms, pathos, elegance, energy, dejection. In each of the ten performances, I was always looking forward to this scene, which, not only because of the content, but also because of the incredible musical drama, almost pushed the audience into their seats.
It is idle to write about this fantastic aria, one has to hear it or at least Johannes Fritsche as Anders Jonsson see the notes in the score to get an adequate impression.
In addition to Wallander, the main role of the opera is different. We were very fortunate to have Johannes Fritsche, a young singer who is totally dedicated to this role. Already during the first piano rehearsals he was able to sing his part so well that he hardly needed any notes. He was fantastically prepared and thus had the freedom to devote himself to the many different facets of this character.
Kurt Wallander:
Kurt Wallander is 60 years old and is about to retire. When Tobias Jonsson tells that he was innocently arrested fifteen years earlier by Kurt as the murderer of his own father, Kurt cannot suppress tormenting thoughts as to whether he made grave mistakes in his investigation. Contrary to the instructions of his boss, he has the old files handed over to him again and opens up the "Anders Jonsson" case again. Because of his progressive dementia and mood swings, Linda and the other colleagues are increasingly concerned about Kurt's mental health. (Source: wallander-opera.de)
Kurt Wallander is the second great baritone role in the opera, Klas Abrahamsson has planned an important role for him, but not the greatest compared to Anders Jonsson. This is also reflected in the fact that he only has to sing one aria in the two and a half hour opera, pretty much at the beginning, in the second scene. In this, Wallander ponders whether he might have been wrong about the arrest of Tobias Jonsson. It is a very beautiful, lyrical aria in which Wallander corresponds a lot with the violins. Again and again he alternates with them, takes over the melody from them, spins it and in this way ponders whether he had made a big mistake back then – 15 years earlier – by bringing the wrong person to court. He is accompanied by the choir, which soothes him in the function of an inner voice and tries to convince him that the responsibility lies with others and that he has not charged himself with any guilt.
At the end his younger colleague Martinsson comes and supports him: "If not Tobias, who else should it have been"? And with that, the music attacca moves on to the next scene, in which Wallander and Martinsson ask Tobias Anders and re-roll the story from back then. It is ensemble scenes like this that make Wallander's role a major role. He is on stage in more than 15 different scenes, sometimes in a large ensemble with all the other soloist roles, but of course also in smaller, chamber music-like excerpts, such as in the touching duet with Christina Berglund, in which they illuminate their early mutual relationship.
Matias Boccio as Kurt Wallander
It was not easy to fill this important role adequately. A key pillar of the entire opera project was the cooperation with the State University for Music and Theatre Stuttgart, which was enthusiastic about this cooperation and wanted to provide soloists for the opera. As already mentioned, the opera begins on Wallander's last working day, so he was already over 60 years old and also marked by the onset of Alzheimer's disease. How could such a role be cast with a student who ideally also came close to the external appearance of the role of Kurt Wallander, as you knew him from the films or as you imagined him to be while reading the novels.
Of course, it was clear to us that in case of doubt we also had to cast freelance singers in the event that it was not possible to find a suitable actor, but that had many disadvantages: the budget was not very high, so we did not receive adequate fees were able to pay but were dependent on all participants getting involved in the calculated fee. In addition, the majority of the graduates of the music college already knew each other and this created a sense of group that might have been endangered by too many outside participants.
I am very happy that in Matias Boccio we have found an actor who has dedicated himself to the role of Kurt Wallander with great intensity. As an Argentine, he did not know Henning Mankell or his character in the novel, so he first had to find out who it was about. In addition to his incredibly personable and accessible manner, he accepted all requests and requests from me and the director Julia Riegel and always saw this role as an opportunity for himself. If we were initially skeptical as to whether he would come across the orchestra with his rather light baritone voice, at the end of the rehearsal he had sung the part into his own voice so much that I only had to ask the orchestra to play quieter than it in a few places the score intended.
A good make-up artist finally managed to put make-up on him when he was older, so that it wasn't too noticeable that he was one of the younger among the soloists.
Linda Wallander
35-year-old Linda Wallander followed in her father's footsteps years ago and also became a commissioner. She is there to support her father, but is also worried about his progressive dementia when he resumes the investigation into "Anders Jonsson" after 15 years. Linda is often frustrated by her father's mood swings and displeasure. (Source: wallander-opera.de)
Kurt Wallander's daughter Linda plays an important role in Henning Mankell's novels. For one thing, she is one of the few people the Commissioner really trusts. She visits him frequently and takes care of him by persuading him to find enough time for himself in addition to his work. When she was burdened with intense psychological problems as a teenager, which even resulted in a suicide attempt, as an adult she became a strong woman at Wallander's side. In the novel "The Fire Wall", Linda decides to follow her father professionally and also to become a police officer, which Mankell takes up in his novels and places her more at the center of the plot.
Klas Abrahamsson also gives Linda a central role in his opera. Above all, her father's progressive dementia worries her and the constant mood swings lead to recurring frustration.
Fredrik cast a great mezzo-soprano voice in her role, the music is very emotional and stirring. This is particularly evident in her great aria (No. 8c), in which she complains that she has to serve as a "legal guardian for her father". Her ambitious voice goes from the small a to the a´´ and that in the shortest possible time, within just one musical line. At the same time she has to be able to sing in other scenes and be able to subordinate herself as well as acting at a high level, since not only anger but also self-doubt, understanding and a loving side are part of her characteristics.
With Lisbeth Rasmussen Juel we had an actress who was able to bring all these facets to the stage and at the same time was extremely vocal and incredibly confident in terms of the musical text. She is a singer who subordinates everything to her respective role and does this with an incredible rehearsal discipline.
She was always in contact with me as a conductor, without this being noticeable in her scenic design. She was always a cheerful and collegial person who enjoyed the big appearance on stage but also the contact with the orchestra, the choir and her colleagues.
Lisbeth Rasmussen Juel als Linda Wallander
Tobias Jonsson
After Tobias Jonsson has been released from prison after 15 years – now like Linda 35 years old – he wants to make it clear that he was wrongly convicted of the murder of his father at the time. The public image of his father was so important to Tobias that he would rather be innocent in prison than divulge his father's secret. (Source: wallander-opera.de)
Klas Abrahamsson triggers the plot with Tobias Jonsson by letting him come to Wallander's farewell party to tell him that he had been wrong 15 years earlier.
It is a middle part that appears in 13 of the 41 parts and has an aria in scene 17c that leads to a trio with Linda and Kurt Wallander. It is now known here that his father Anders was transgender, so Tobias worries about how people will talk about him when this comes out in public. It is an emotional aria that testifies to the love for his long-dead father. The orchestra is characterised by many small musical motifs, some of which are in the woodwinds and some in the strings. The scene in the trio, when Tobias Kurt Wallander asks to keep the motif of Fredrik's murder of Anders secret, is particularly moving. The police are already on their way to arrest the perpetrator, symbolised by a strongly dissonant and louder horn signal, which represents the siren of the approaching police patrol. Gustavo Martin Sanchez als Tobias Jonsson
For the role of Tobias, no one from the Musikhochschule Stuttgart had found itself, for this reason we had to look in the freelance scene and found what we were looking for in Gustavo Martin Sanchez, a fellow student of mine from Munich times. He now lives in the Ruhr area, where he works as a freelance singer and singing teacher. I was very happy that he took on this game, which was not easy to play. As a particularly happy contemporary, he had a very positive effect on the mood in the ensemble and had a lot of contact not only with my fellow singers but also with my academic choir.
Christina Berglund
The priestess Christina Berglund had a passionate relationship with the murder victim Anders Jonsson. Shortly before his death, she offers him to give up a mission in Africa in order to stay with him. But Anders refuses. Heartbroken, she travels alone to Africa and learns of the death of her lover there. Christina still mourns her lost love 15 years later. (Source: wallander-opera.de)
Christina Berglund made her first appearance relatively late, in the ninth scene. The choir begins with a beautiful Ave verum corpus in which Fredrik Sixten quotes himself. His motet from 2007, originally in D major, sounds here transposed down a whole tone and from bar 19 becomes "accompanying music" by Kurt and Christina, who see each other again after many years, almost like a recitation, and talk about it what they are doing now and what has become of them. Sixten has Christina – meanwhile become a priestess – with a lyrical soprano. Her role is significant, as she forms the seam between the past (Anders Jonsson) and the present (Kurt Wallander), especially represented by the last scene in which she reads Anders' letter (sung by himself) and Kurt's hand holds.
Thérèse Wincent as Christina Berglund
She is not granted her own aria, which would probably have enhanced her role, but atmospherically she plays an incredible role in the plot. With Thérèse Wincent, we had an ideal cast for this reason alone, as, as a native of Sweden, she repeatedly explains special characteristics of the Scandinavian way of life (e.g. the importance of coffee enjoyment in Sweden) and introduces her colleagues to the atmosphere of the landscape in Skåne could. She also grew up in England and was a great help with pronunciation questions. Her 10 years of experience as a permanent member of the ensemble of the Staatstheater am Gärtnerplatz was evident in the extraordinary expressiveness of her playing on stage and her beautiful soprano voice was an ideal match for the seemingly innocent Christina Berglund.
Fredrik Berglund
50-year-old Fredrik Berglund is Christina's brother and Anders' best friend. When he learns of Anders' secret through a letter actually addressed to Christina, he questions both his own and Christina's relationship with Anders. (Source: wallander-opera.de)
He is the murderer of Anders Jonsson, which only comes to light relatively late, in the 16th scene, when, in a flashback, he speaks to Anders about a letter he wrote to Christina. The situation then escalates and a knee-jerk murder ensues.
This is an extremely difficult role as it is not incredibly large but requires a strong presence and a dramatic tenor voice. Actually, she is tricky, as there are always situations on stage in which Fredrik does not have to sing but act. Among the students at the music college was a tenor with a fantastic voice, who performed his aria musically flawlessly but emotionally very reserved. I would have liked to have cast him as musical director, but the director Julia Riegel had reservations because she could not imagine him in this psychologically difficult role. After a long search on the independent singer's market, we finally came across Volker Bengl, whom Thérèse Wincent knew well from her time at the Staatstheater am Gärtnerplatz. In the meantime he had devoted himself more to the concert subject and had become known to a wide audience through numerous television appearances in the field of operettas as well as hits.
Volker Bengl as Fredrik Berglund
His now matured voice was well suited for the role of the murderer Fredrik and his stage presence was particularly impressive. E.g. in his first appearance (scene 5b) when he was standing in the background of the stage shortly beforehand and observing the scene, only to go forward to be interrogated by Kurt Wallander. In the following scene he explains in a great aria what he thinks of the term "friend". Or at the end of the opera, after his confession (scene 17a), when he explains his background and asks for understanding.
"Nimble, mimble, mumble moo and bibble, babble, bubble boo" – the choir
On the one hand, the choir has a narrative function if it structures and comments on all situations and events like a narrator. On the other hand, the choir also expresses the inner workings of the characters – above all Kurt's perspective. Occasionally individual choir singers will step out of the ensemble and embody various secondary characters who have hardly any text in a few lines. (Source: wallander-opera.de)
Looking back, I have to admit that I was relatively naive about the Wallander opera project on a university stage. This was evident not only in the design of the stage design, the dramaturgy, the costume and make-up designers, which I had not considered in any way when commissioning the work, or the lighting, but also in the different musical line-ups, e.g. the orchestra and the soloists and also with the question of an opera choir. For a reason that I can no longer understand today, I had always thought that Fredrik would compose an opera in the choral passages as he composed his motets, but of course with the drama of his requiem, he would be able to cope well with an amateur choir.
When I finally saw the score for the first time, I had to swallow. I hadn't expected that the choir would have to sing eight voices in some passages, sometimes to cope with extremely fast text passages and to climb an ambitious up to the C´´´.
Der Kammerchor Camerata vocalis in der "Fußballszene"
My now relatively large experience with commissioned works has taught me that it is sometimes necessary to adapt the music to the circumstances that are available for such a work. In our case this meant that I had two choirs: on the one hand the chamber choir of the university (Camerata vocalis), which acted on the stage and took over some passages there alone, and on the other hand the large academic choir, which also did not so experienced students are open and could sing along in many numbers. He sat behind the orchestra below the stage at the three Tübingen performances and supported the chamber choir with the sound of the numbers that required a powerful choir, but also for the passages where the choir was scenically very demanding on the stage. So they were prominently involved in the project and were able to take a look behind the scenes, which was very interesting for many choir members, even if they could not stand on the stage themselves.
To get an overview of the choir passages, I list their involvement including their respective function:
Szene Textanfang Funktion
Prolog "Ah" Background voices
Scene 2a Kurt, it's working out all right Policemen
Scene 2c Who is he, who brought him Policemen
Szene 2d I can happen to all Innere Stimme
Szene 5a Anders Jonsson? Bürger von Ystad
Scene 6a Us lasses have worked real hard! Football team
Scene 6b Who are they? Who are we? Football team
Scene 8a Kurt, losing his marbles, so it seems. Policemen
Szene 9 Ave verum corpus natum de Maria Kirchenchor
Szene 11a Ave verum corpus natum de Maria Kirchenchor
Szene 12 Who!? Who were you? Background voices
Scene 13a What is going on here? Policemen
Scene 13c It looks as if Linda hast he ball… Policemen
Scene 17d Kurt, your time has come once more Policemen
Scene 18a "Ah" Background voices
It was certainly a special challenge to portray the different characters, vocally and dramatically, and a good decision to supplement the stage choir with the academic choir, so the chamber choir had the opportunity to concentrate a little more on what was happening on the stage. They were then no longer there for the guest performance at the Ystad Theater, it would not have been possible to finance it. However, up until then the Camerata vocalis had been played in such a way, both musically and scenically, that the large choir was no longer absolutely necessary.
This excursion into the world of opera gave my choir singers incredible joy. They were motivated and at the same time very ambitious and especially in the stage choir an unbelievable team spirit developed, of course especially through the 12 days together in Sweden, where the ensemble stayed in small beach huts and was able to go on many excursions in their free time.
In terms of their structure, university choirs are very fluctuating ensembles, as the students always stay at the university for between one and four years and then either change cities or are professionally involved. In this way, there are only a few of those involved in my choir today, but for those with whom I still talk about it, the opera is the most important event of their choir days, for some even of their entire studies.
Adagio e Serioso = 40 – the Orchestra
Which orchestra would be the right ensemble to take part in such an adventure? It was clear to me from the start that I would not be able to do this great work with the university's academic orchestra; the individual passages were too demanding and the opera as a whole too long. I am very fortunate to be able to lead a very good orchestra, balanced in almost all registers, with which I have already performed symphonies such as the 5th by Shostakovich, the 1st by Gustav Mahler or the 4th by Anton Bruckner such a long work with this level of difficulty would not have been realisable.
So I started looking for a professional orchestra and initially thought of the freelance scene, as I had already conducted a lot of concerts in these circles. But it quickly turned out that it couldn't be financed like this, as the musicians were employed for a total of around 2 – 4 weeks and ultimately had to live from their commitment. Extrapolated to 30 orchestral musicians, you would have had to calculate between € 50,000 and € 70,000, which was completely outside of our budget. So I first asked the orchestra of the University of Music and Theatre in Trossingen, but they quickly refused. Finally, I came across the Württemberg Philharmonic in neighbouring Reutlingen, an orchestra founded in 1945, which is very flexible in terms of both programming and music and which ranks at the top of the list in our region in terms of quality. During a conversation with the director two years before the premiere, he was immediately open-minded and was very favourable to me in terms of price, so that I didn't have to think twice. However, after a few weeks it turned out that, according to the collective agreement, the musicians were not in a position to reschedule their summer vacation, so I had to look for a new orchestra for Ystad.
And here I came back to the idea of ​​asking questions in the freelance scene. Perhaps it was possible to lure the musicians with the beautiful town of Ystad, which is extremely picturesque right on the Baltic Sea and is therefore a tourist magnet.
And indeed: Claudia Schwamm, founder and organiser of the baroque orchestra La Banda, was immediately hooked and put together an incredibly nice and good line-up, who came to Sweden for a friendship award to combine work and vacation. After many, many concerts that I had already conducted with this orchestra, this trip was a very special cooperation and I am really very grateful to Claudia for her commitment to the cause and her organisational skills.
As already written, the 42 numbers of "W-The Truth Beyond" are quite demanding, on the one hand technically but of course also musically, since the work contains an unbelievable number of moods and each group of instruments also appears as a soloist. Many tempo changes and dynamic subtleties make this opera an important but multifaceted work that requires a lot of experience.
The originally planned librettist initially had the idea of ​​a chamber opera, but Fredrik and I quickly agreed that an opera about Henning Mankell's Kurt Wallander is not a chamber play. It's about an intense action that requires correspondingly intense music, presented by a symphonic orchestra with many timbres, which can represent the different moods in a variety of ways.
My conclusions
Looking back, I can say that the creation and realisation of the opera "W – The Truth Beyond" was the greatest challenge of my musical career so far, but it is also one of the most beautiful experiences of my 30 years as a conductor. Starting with organising a spontaneous idea through to implementation on the stages in Tübingen and Ystad, it was an experience that I wouldn't want to miss. Very often you hear from the initiators of a large project that they would not have implemented it if they had known beforehand how much work they would have to do.
It's different for me: I would love to relive every second that I put into this opera, including the critical phases (now I know that it turned out well in the end).
I am very grateful to Fredrik for his intensity, his professional work, many conversations, sometimes tough discussions, his help and the energy he invested in this opera!
He's a fantastic composer and a great personality, but this adventure together made him a good friend of mine too.
Philipp Amelung, Januar 2022
Universitätsmusikdirektor
University of Tübingen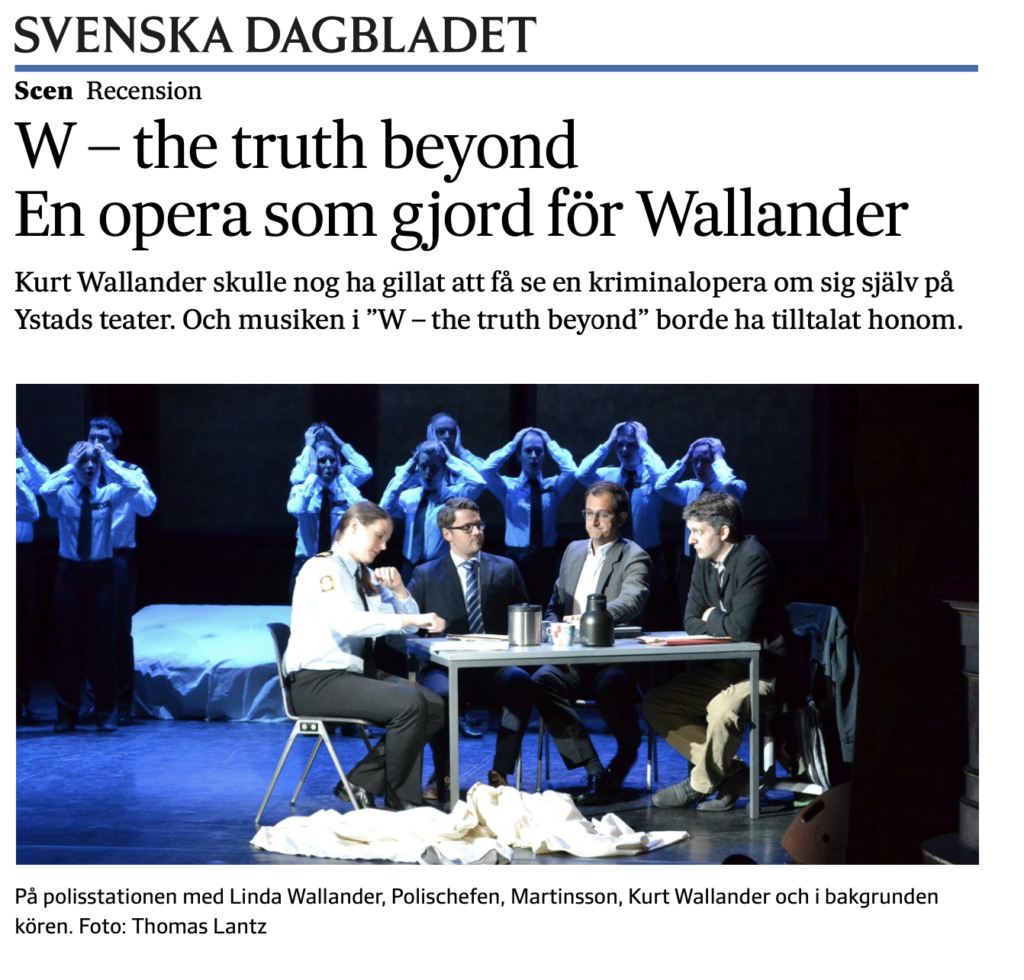 Scen Recension
W – the truth beyond
En opera som gjord för Wallander
Kurt Wallander skulle nog ha gillat att få se en kriminalopera om sig själv på Ystads teater. Och musiken i "W – the truth beyond" borde ha tilltalat hono
W – the truth beyond
Genre: Opera
Regi: Julia Riegel
Medverkande: Matias Bocchio, Johannes Fritsche, Lisbeth Rasmussen Juel, Thérèse Wincent, Gustavo Martín Sánchez, Volker Bengl m fl.
Var: Ystad opera
Musik: Fredrik Sixten. Text: Klas Abrahamsson. Scenografi: Susanne Marschall. Musikalisk ledning: Philipp Amelung.
Kriminalkommissarie Kurt Wallander älskar opera, det vet ju alla. När mordfallen blir alltför blodiga sätter han på en lugnande operaskiva. Just så börjar också den nya Wallanderoperan "W – the truth beyond", där en skrapig vinylskiva spelar "Sången till livet" ur Tosca. Så vidgas fonden mot en ödslig strand vid havet. Dystra klanger från orkestern går över i sirener, ett tema som återkommer när poliser gör entré, ett bland flera ledmotiv i
Vi befinner oss i Ystad, Wallanders hemstad. Nu ska han gå i pension och firas med kaffe och tårta. Här går åt mycket kaffe. Poliserna är oftare beväpnade med kaffemuggar än pistoler. Under avtackningsceremonin börjar vi förstå att Wallander är på väg att bli dement. Han upprepar sitt ständiga tackande, och när kollegerna ska prisa honom sjunger de bara "bla bla bla" – i alla fall är det så Wallander uppfattar dem.
Men så dyker det upp någon ur hans förflutna. Den dömde i ett mordfall har avtjänat sitt fängelsestraff och konfronterar nu Wallander för att berätta att han var oskyldig. Hela operan blir en resa tillbaka i tiden där Wallander och hans dotter Linda, även hon polis, försöker lösa fallet på nytt. Det blir en del dispyter mellan far och dotter – "Vem har mest erfarenhet, du eller jag?" – och i en förtvivlad sorgesång sjunger Linda att hon inte vill vara "mamma till sin pappa".
Nu rullas en ganska krånglig story upp, med en rad återblickande scener. Det visar sig att morddramat handlar mer om identitet än det verkar från början; här blandas deckarintrig och djuppsykologi. Polisförhör växlar med känslosamma sånger: "Vem är jag, vem kommer jag att bli?" En avslutande aria predikar tolerans, en annan handlar om hur man vinner i fotboll. Den skånska byn liknar Midsomer, inte minst genom att texten sjungs på engelska.
"W – the truth beyond" är ett udda samarbetsprojekt mellan Ystads teater och universitetet i Tübingen, där urpremiären nyligen ägde rum. Den unga kören hör till universitetet, där dirigenten Philipp Amelung har en tjänst. Orkestern La Banda kommer från Augsburg, medan solistensemblen är internationell.
Librettisten Klas Abrahamsson har en bakgrund som manusförfattare bland annat till Wallander-avsnitt för tv. Hela projektet välsignades av Henning Mankell innan han dog. Nog skulle Wallander har gillat att få se en kriminalopera om sig själv på Ystads fina gamla teater! Jag tror också han skulle ha tyckt om musiken.
Fredrik Sixten är en av Sveriges mest spelade tonsättare, från början organist, framför allt känd från kyrkliga sammanhang. Liksom sin lärare Sven-David Sandström har han arbetat med flera av de traditionella oratorieformerna och bland annat skrivit ett rekviem, ett juloratorium och två passioner. Men här träder Fredrik Sixten fram som en fullfjädrad operakompositör. Hans personligt tonala tonspråk passar perfekt för operamässiga känslouttryck, orkestersatsen driver det musikdramatiska förloppet, kören kommenterar, ibland lätt kryddat av folkmusikaliska tongångar. Det är ytterst skickligt.
Bo Löfvendahl
2013 kom den sista boken om Ystadspolisen Kurt Wallander. Författaren Henning Mankell avled förra hösten, men hann innan han dog välsigna ett operaprojekt som baserades på hans karaktärer. Initiativtagare är Philipp Amelung, som är musikdirektör vid universitetet i Tübringen i Tyskland. Operan "W – The Truth Beyond" spelades första gången för en månad sedan i Tübringen och i lördags hade den Sverigepremiär på Ystads teater.
Kurt Wallander avtackas inför pensionen. In kommer en man, som han satte dit för
fadersmord femton år tidigare. Nu har han avtjänat fängelsestra!et och vill berätta att han var oskyldig.
Wallander börjar gräva i fallet igen med hjälp av sin dotter Linda, gestaltad med självklarhet och pondus av den danska mezzosopranen Lisbeth Rasmussen Juel.
Det visar sig att den mördade – Anders Jonsson – hade en hemlighet, något som han inte vågade berätta om i den lilla ort där han bosatt sig med sin son. Och mycket riktigt: När han väl avslöjade den, mördades han. E"ersom det här är en deckare, går jag inte närmare in i handlingen än så.
Dramatikern Klas Abrahamsson har skapat en lagom komplex intrig som utvecklar sig i flera lager med återblickar och delikata lönnspår.
Förutom själva mysteriet om vem som egentligen mördade Anders, är det en gripande berättelse om drömmar, ensamhet och möjligheter som glider en ur händerna. Men också en angelägen berättelse om identitet och intolerans.
Kurt Wallander känns väl igen från böckerna. Obekväm inför o!iciella sammanhang och ständigt jäktad av en gnagande känsla av att någonting inte stämmer. Dessutom jagad av en tidigt drabbande demens. Matias Bocchio gestaltar allt det här bra, både med sin återhållna spelstil och varma baryton.
I andra akten glider den ärrade polisen undan allt mer. Sjukdomen tar diskret överhanden och tillslut är Kurt Wallander mest en förvirrad betraktare.
Några av rösterna till de mindre rollerna är i det svagaste laget, akustiken på Ystads teater är ganska hård, och stundom drunknar sången i orkestern. Men helheten är överväldigande – och allra bäst är Johannes Fritsche. Blott 23 år gammal övertygar han som den betydligt äldre Anders Jonsson. Hans stadiga baryton tränger obesvärat igenom de täta klangerna och lyser upp ljudbilden.
Det finns en mörk grundton som sammanfaller väl med Kurt Wallanders oroliga person, och de musikdramatiska höjdpunkterna är många. Som återblicken i första akten, där den sedermera mördade Anders Jonsson peppar byhålans fotbollslag. Undan för undan övergår det hurtiga peptalket i en ångestfylld inre monolog om rädsla och utsatthet.
Fredrik Sixten har tidigare mest skrivit kyrko- och körmusik. Jag hoppas han återvänder till operascenen mycket snart.
Tor Billgren
How did this come about? The parent of my dad? Say how did I end up? A mummy to my dad? A chrochety old codger! He is meant to be my father. He should be at hand for me. Not a burdon he should rather be my hero for my little girl and me. I should not be in charge as a parent for my dad. Is it my fault that he is aged? Is it my fault things are bad? Is it my fault that he is muddled? Is it my fault that no-one else can help my dad? He is grouchy, he is grumpy, his good nature disappeared, he's away with fairies. He's eccentric and weird. Yes even if I was the only he had. I refuse to become a mummy to my dad! I think of what I had: a father warm and glad. It makes me very sad, the parent of my dad. (Libretto by Klas Abrahamsson. Translation: Ann Henning Jocelyn)